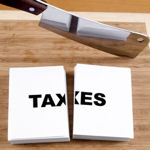 It is a fact that every dollar paid in income taxes is one less dollar available for retirement. Therefore, it makes a great deal of sense to minimize your tax bill – something that can be done with a modest amount of planning. The first step in getting started is to understand how tax brackets work. Refresh your memory at www.obliviousinvestor.com/2011-tax-brackets/. Here are some tax-management planning tips you'll find easy and beneficial.
Most retirees have two types of investments and savings: (1) IRAs, 401(k)s and other "qualified" retirement accounts which will be taxed as ordinary income when taken and (2) other investments & savings that may benefit from capital gains, dividends, tax-deferral and other favorable tax treatment. Most retirees keep their "risky" money in IRAs and 401(k)s where full taxes will be paid on all the money, even on earnings from capital gains and dividends. Much of the other money, including the "safe" interest-earning accounts like bank CDs, is subject to ordinary income taxes every year. If this is your situation, why not meet with your financial advisor and discuss the merits of getting capital gains/dividends treatment on your "risky" money and deferring taxes on your "safe" money. The result could be fewer taxes and more money left for retirement.
Another commonly overlooked opportunity available, regardless of your income level, is the Roth IRA. You can convert some or all of your IRA money to a Roth, pay taxes at your normal rate and thereafter neither principal nor interest will ever be subject to income tax again. Given the expenses of two wars, two government bailouts and the current policy of government over-spending, do you think taxes are headed higher or lower in the coming years? If you think higher, as almost everyone does, why not get a "tax discount" by converting some of your money earmarked for late-in-retirement-use to a Roth IRA? Be sure to monitor the amount converted to keep you in the lowest tax bracket possible. If you can manage your annual income, consider Roth conversions in years when you've kept your income low. You, your spouse and/or any beneficiary that inherits the Roth money will pay no income taxes or principal or earnings. Unlike a regular IRA, Roth IRA money does not have to be withdrawn during your lifetime but is always available tax-free if needed. Learn more about Roth IRAs at http://www.rothira.com.
What about taxes on your Social Security benefits? Unfortunately, up to 85% of your SS benefits will be taxed if your "other income", including 50% of your SS benefits and 100% of interest you earn from tax-free municipal bonds, exceeds an amount that shrinks every year because it is not adjusted upward for inflation. Money withdrawn from a Roth IRA does not count as "income" and can be used to help reduce taxes on SS benefits. Deferring taxes on earnings by using annuities for your longer-term retirement money can also lower current taxes. Annuity earnings are not taxed until actually withdrawn; thus, moving money from other interest-earning accounts, like bank CDs, can lower your current taxable income and help you keep more of your SS benefits.
Many retirees use tax-free municipal bonds to lower taxes but this is a good strategy only if you're in a higher tax bracket because highly rated municipal bonds pay a lower interest rate than comparable taxable bonds. Another strategy is to accelerate your withdrawals from IRAs and other taxable accounts during years when itemized deductions will put you in a zero or lower tax bracket. This means you'll be "prepaying" your income taxes when rates are lowest. Of course, tax planning can be a bewildering affair; therefore, discuss with your financial advisor how to manage your income to lower your taxes. Don't ever forget that a dollar saved in taxes is a dollar kept to enrich your retirement lifestyle. You might not be able to escape death, but you can avoid paying more taxes.
Shelby J. Smith, Ph.D.
May 2012