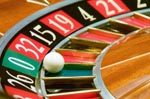 The stock market fluctuates wildly some days – 300 or more points, representing a change of 3% or more, is common. For a retiree with $500,000 of her retirement money in "the market", losses could easily be $20,000 in one day, even if her portfolio is diversified. Wall Street's recommended withdrawal strategy is 4% annually; thus, our hypothetical retiree could be running on empty for the next 300 or more days after one bad day in the market. What might the future bring? Another meltdown or a sustained rally! History will tell but there is one certainty: money in the market is at risk.
The current market outlook is far from clear. America is suffering a continuing economic malaise with unemployment alarmingly high. Deficit spending is out of control and Congress is hopelessly deadlocked over what to do. There will likely be no long-term solution without responsible fiscal policy that addresses Social Security, Medicare and defense major tax increases. The Democrats refuse to talk about cutting government spending and the Republicans are dead set against higher taxes. Federal elections are a year away and so are economic solutions given the current Congressional stalemate.
The new book Boomerang by Michael Lewis analyzes the deplorable financial condition of several European countries and California – concluding that all are on the brink of financial Armageddon. Global economic stagnation and the fiscal imbalance of many U.S. states & municipalities augurs poorly for an economic recovery near-term. Meanwhile homes continue to lose value in many communities, unemployment is stuck on high, the business sector is hunkered down, local & state governments are nearing panic, the banking industry is sick and Congress is adding to the economic damage.
Given the foregoing it's hard to be optimistic about an improving market. Yet, many retirees are hoping and praying their investments will get back to breakeven so they can sell and put market risks behind them. Of course, there is no assurance the market will recover past losses nor is there a guarantee against another meltdown. Nonetheless, Wall Street continues to broadcast its favorite myth: "don't worry about short-term market changes you'll be fine in the long run". Really! While the market has seen record peaks and valleys in the past decade, today's level is roughly the same as a decade ago. Parenthetically, a decade is about half of the typical retirement. If the U.S. is today where Japan was in 1990, the market is in for a long slide to one-fourth its current level.
If you cannot afford the risk of the market, there is never a good time to "get in" nor is there a good time to "get out". If you're at risk of losing what you've saved to support you and your loved ones in retirement, now is a good time to measure your market risk. My advice: first, find a financial advisor that offers something other than market options and second, make doubly sure you understand the downside of his or her recommendations. You should never take risks with retirement money you cannot afford to lose. Retirement is the longest & most expensive journey you'll ever take, you can't borrow money to pay for it and you'll have one chance to get it right; therefore, proceed cautiously and prepare accurately by working with a professional advisor.
Shelby J. Smith, Ph.D.
December 2011